TAM LIVENGOOD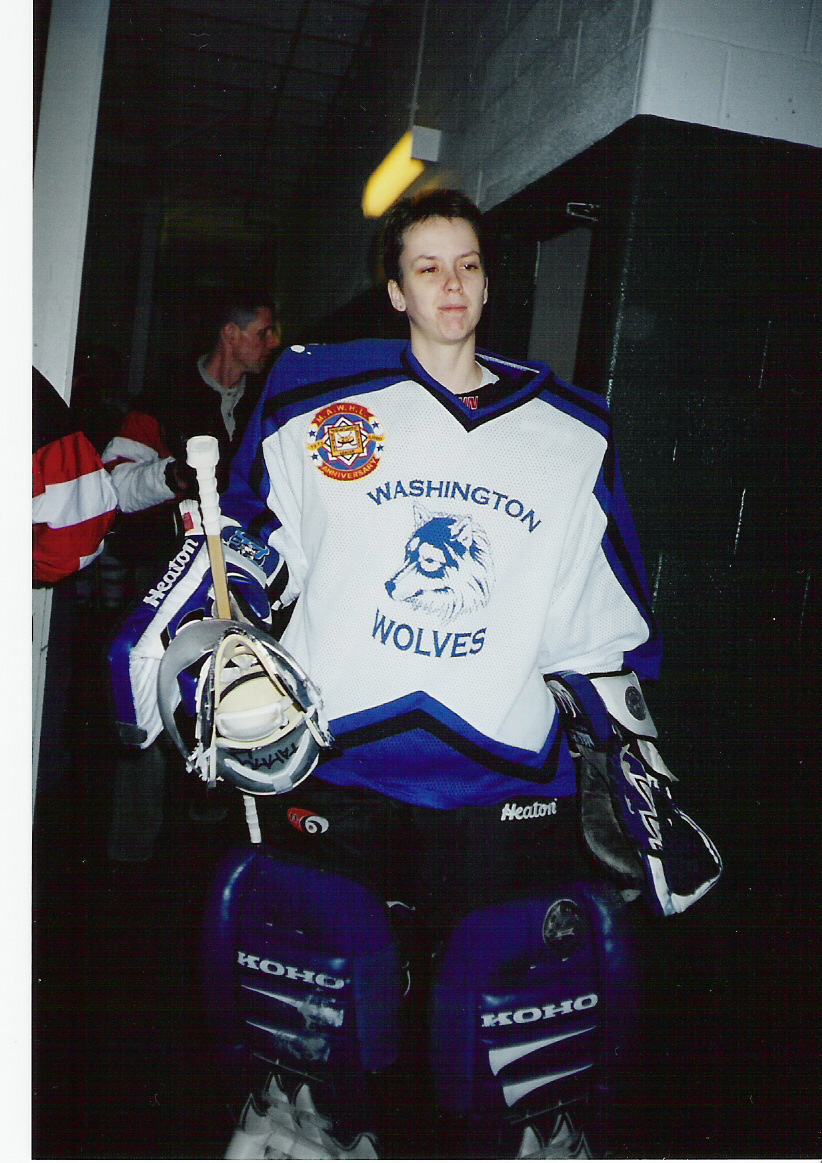 Number: 29
Position: Goalie
Shoots: I don't shoot, I get shot at!
Birthplace: Washington, D.C.
Hobbies: Restoring 1968 Ford Mustang, Hockey, Hiking with my dog, Hanging out with friends.
Favorite team: Washington Capitals, and the fact that I admit that willingly should tell you I'm a true fan.
Favorite hockey player(s): There's not just one single player. A goalie LOVES her defense!!!! My defense is my favorite player :) The only players who can save your ass and try to kill you all in the same play.
Favorite food: Pucks
Years playing hockey: 1 year as a wing, 7 years as a goalie.
Memorable hockey experience: First time I played in a tournament with the C team in Brampton, and we were put in a division that was one higher than we were supposed to be. First game we lost I think 2-0. We got it out of our zone ONCE the eintire game!!! Thousands and thousands of shots....I look down at the other end of the ice and the other teams goalie was so bored that she was standing at just about center ice having a conversation with fans in the stands!!! The only way I could catch my breath was to run from the ref with the puck (picture that) because he'd take it from me and do the face off before I could even get my sorry ass off the ice. Now that's a classic!
Actually that would be tied with the Lake Placid trip, also with the C team, when my van caught on fire on the NJ Turnpike and I tried to put it out with a vanilla frappucino from Starbucks, after I finally got pulled over my passengers jumped out and ran like hell and I pulled out a bottle of water (yes, to put out a electrical fire, bad, bad goalie) and put it out. My favorite part of that was Lucie saying "I took my wallet with me in case it blows up". anyways, I got out the tools, took the bad switch out (the heater switch is what caught fire), and we were back on our way to Lake Placid and arrived late that night, with no more flames. The van was then referred to as the Flaming Booty Wagon. I believe they have a photo up on this website that shows us on the NJ Turnpike after the flaming event when I was getting ready to remove the switch.
Anyways...those are just two of the stories I have from past hockey trips...there are more but I fear I don't have enough space to put them. Thanks guys for including me in so much these past years and I look forward to more!!! Gumby loves you!!!